Forum for Civil Procedure Graz
This event is hosted by Professor Dr. Bettina Nunner-Krautgasser and Professor Dr. Thomas Garber in cooperation with law firm Scherbaum/Seebacher and publishing house Verlag Österreich.
During this event, leading representatives and experts from the fields of academia and practice give lectures and present their perspectives on current topics.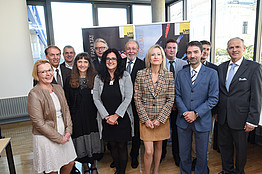 Am 29. und 30.9.2016 fand das Grazer Forum zum Zivilverfahren zum Generalthema "Grenzüberschreitende Insolvenzen im europäischen Binnenmarkt – die neue EuInsVO" statt.
Die ab 26.6.2017 geltende Verordnung wurde von renommierten FachvertreterInnen aus Wissenschaft und Praxis ausführlich erörtert und analysiert. Untersucht wurden etwa die Zuständigkeit für die Durchführung eines Insolvenzverfahrens sowie Fragen im Zusammenhang mit Konzerninsolvenzen. Zu den Vortragenden zählten Prof. Dr. Klaus Pannen, der die Vorarbeiten zur EuInsVO darstellte, Univ.-Prof. Dr. Thomas Garber, der zum Anwendungsbereich der EuInsVO referierte, Univ.-Prof. Dr. Andreas Konecny, der Fragen der Zuständigkeit und ihre Prüfung behandelte, Priv.-Doz. Dr. Birgit Schneider, die zu Fragen der insolvenznahen Verfahren referierte, Prof. Dr. Christian Berger, der zur Insolvenzmasse vortrug, HR Univ.-Prof. Dr. Matthias Neumayr, der ausgewählte Fragen zum anwendbaren Recht behandelte, Dr. Hans-Georg Kantner, der sich in seinem Vortrag der Unterrichtung der Gläubiger und der Anmeldung ihrer Forderungen widmete, Prof. Dr. Jasnica Garasic, die die Aufrechnung in der Insolvenz behandelte, Dr. Robert Hänel, der zu den Befugnissen der Insolvenzverwalters vortrug, Ass.-Prof. Dr. Andreas Geroldinger, der sich der Kommunikation und Koordination widmete, Dr. Franz Mohr, Hon.-Prof. Dr. Axel Reckenzaun und Mag. Kathrin Poltsch, die das Thema der Zusicherungen von Vermeidung von Sekundärinsolvenzverfahren darstellten, Dr. Mario Leistentritt, der sich der Anerkennung von Insolvenzentscheidungen widmete, Dr. Clemens Jaufer, der zu Fragen iZm Konzerninsolvenzen vortrug, und Prof. Dr. Christoph Paulus, der die Frage behandelte, was die EuInsVO von der BRRD lernen kann.
Durch die Tagung führte Univ.-Prof. Dr. Bettina Nunner-Krautgasser, em. Univ.-Prof. Dr. Wolfgang Jelinek sowie Dr. Gabriele Seyffertitz, Insolvenzrichterin des LGZ Graz.
Die Ergebnisse werden in einem im Verlag Manz erscheinenden Tagungsband veröffentlicht. Die Veranstaltung fand in Kooperation zwischen dem Institut für Zivilverfahrensrecht und Insolvenzrecht unter der Leitung von Univ.-Prof. Dr. Bettina Nunner-Krautgasser und der Rechtsanwaltskanzlei Scherbaum Seebacher statt.